Headsets and glasses and goggles, oh my
Virtual Vector recaps a busy week in hardware news.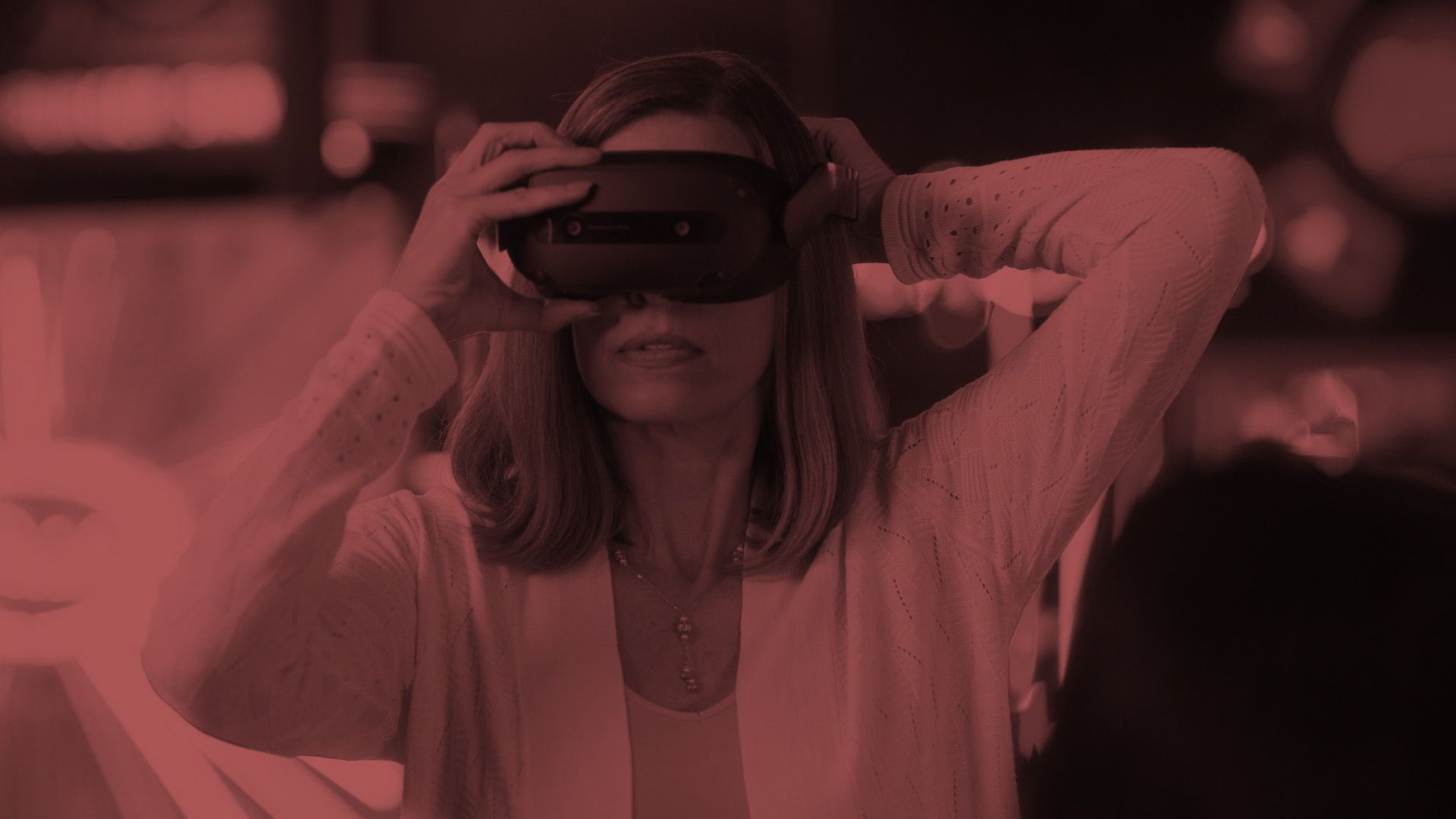 Welcome back to the Virtual Vector newsletter!
Before we get into today's full free newsletter, I want to take a moment to thank everyone who jumped in to support Virtual Vector within its first week. Any fears I had about a lackluster launch were quickly laid to rest. Ultimately, my hopes for this thing are pretty modest, but for now I'll just say that it warms my heart to receive this much support.
If you haven't signed up for the newsletter yet and are able to pay, yearly subscriptions are still available for a special launch discount. Details are available at this link. I'll give a few days' notice before I retire these discounts, both here and over at Virtual Vector's Twitter account, but don't expect this deal to last too much longer (and if you've already signed up, tell a friend).
Last thing: the Virtual Vector Discord server is up and running. It's free to join the server and doing so gives you access to a channel I'll be updating with curated links to VR and AR news throughout the week. I'll have more to say on what paying supporters can expect from the Discord later in this newsletter. On to the first section!
Speedrunning this week's HMD news
I think more than a few XR hardware makers wanted a moment in the spotlight before Meta kicks off its annual Connect conference next Tuesday. How else to explain all the headset and glasses news over the past week?
I'll grant that a few of these recent items have been a long time coming, but it probably can't hurt anyone to get the word out about their products before Connect sucks up all the oxygen for a week or two. Let's take a look:
Lenovo announced the newest addition to its ThinkReality line of enterprise immersive devices, the VRX headset. Many were quick to point out that the standout features of this headset are not coming out of left field; color passthrough for mixed reality (MR) applications plus thin-and-light pancake lenses theoretically puts the VRX in a league with the enterprise ByteDance and Meta headsets discussed in last week's newsletter.
If the VRX is another sign of a new "minimum spec" for the enterprise level, does Lenovo's announcement tell us anything about when these features could become a standard in consumer headsets? Not quite, though learning the VRX's price later this year will help in making educated guesses (and a leak discussed further down might narrow the window). At the very least, I'll be surprised if the Legion-branded gaming headset Lenovo teased earlier this year doesn't sport pancake lenses.
Meanwhile, so long as the VRX and the A3 glasses lead its lineup, expect Lenovo to keep emphasizing the importance of its broader enterprise ecosystem over any shiny XR hardware features. Speaking with Tom Ffiske of Immersive Wire about the announcement, Lenovo's Vishal Shah talked up the benefits of the company as an end-to-end solutions provider. Hard to argue that any company giving all its workers ThinkPads shouldn't at least consider Lenovo as an immersive tech vendor.
Magic Leap hit its promised release date for the Magic Leap 2 on Friday. Considering that the development of these AR goggles began before the company's pivot to enterprise and saw the company switch up chip providers from Nvidia to AMD (during the chip shortage, no less), Magic Leap has earned a nod of recognition for shipping on time.
This does mark the start of a new chapter for Magic Leap: we're no longer waiting to see if the company can deliver the Magic Leap 2, and now it's time to see whether the Magic Leap 2 itself can deliver on the company's promises. I walked away from my brief demo earlier this year impressed with certain Magic Leap 2 features, but I did not leave convinced that I had just seen a product with far more utility and appeal than its predecessor. The company has learned what it can from partners in its early access program, and now we'll begin to see what other developers and businesses can teach us about the strengths and weaknesses of Magic Leap 2.
Nreal launched its Air glasses in the US for $379. Want to use them with an iPhone or Nintendo Switch? That'll require a $59 adapter, adding to the price of these tethered glasses that don't deliver on spatially-aware AR the way that the $599 Nreal Light glasses can. The main pitch for the Air is as a personal screen for watching TV or movies and playing video games, and Nreal said that's exactly what early adopters in Asia started out using the Light glasses for most. Will the US follow a similar pattern, or will it take some creative uses beyond content consumption for glasses with this price and feature set to start winning over consumers here?
Lynx, the upstart hardware company that in many ways has been ahead of the curve on the push for MR, shared some bad news along with some good. In a live stream from Taiwan, founder Stan Larroque announced a delay on shipments of Lynx's first R-1 headsets to mid-November. Why? Lynx's memory supplier stopped making 6GB RAM chips, so Lynx is instead upgrading the R-1 to include 8GB. Lynx also plans to launch its SDK next week.
Pimax, known for its pricey, wide field of view PC VR headsets, dropped some news about the upcoming Pimax Crystal for followers of the brand on Reddit. With production underway, the company says it plans to start shipping Crystal headsets to customers in China in November, but (calling to mind the Sword controller delays), Pimax cautions that the Crystal's standalone options won't launch until the standalone store is ready "later this year."
Finally, I'd be remiss if I didn't mention the leak that might influence the reception of whatever Meta reveals at Connect: Brad Lynch's release of alleged details on Meta's in-development headset codenamed Stinson, slated to be 2023's Quest 3.
Uploaded soon after Meta teased the Quest Pro with some MR fencing footage, the CAD files in Lynch's possession suggest the Quest 3 will have a similar focus on MR, minus long-awaited eye and face tracking capabilities coming to the Pro.
While I doubt Meta actually plans to talk much or at all about Stinson at Connect (that might undermine the idea that "Quest 2 will have a long life"), we should watch Meta's keynote carefully with this leak in mind. For one, we might see Meta start building out its case for consumer MR by showing off some new non-productivity uses or special MR modes for existing apps. Another thing to keep an eye out for is any talk of avatar advances that don't rely on active tracking. If Meta really does opt against putting face and/or eye trackers in Quest 3, then I'd expect it to push even harder on tech that can deliver better avatar animation without them.
Sony's seemingly high hopes
Intrigued by all those hands-on experiences with the PlayStation VR2 that were published a few weeks ago? Sony had better hope that enough PlayStation 5 owners are.
Bloomberg's Takashi Mochizuki reports that manufacturing is already underway for the PS VR2 with Sony aiming to produce 2 million headsets by March of 2023. Here's some quick and dirty math: with 20 million PlayStation 5 consoles sold as of June of this year, this pace of production suggests that Sony thinks the PS VR2 could do about twice as well relative to consoles sold as the headset's predecessor did over the lifespan of the PlayStation 4. Even if we assume original PS VR sales stayed strong after Sony hit the 5 million unit milestone at the start of 2020, it's doubtful that the attach rate cleared more than 5% of PS4 owners.
If we think Sony expects these headsets to fly off shelves (though hopefully not in the way that supply chain issues and scalping made the early PS5 days a nightmare), that could help us dial a bead in on price. In 2016, the first PS VR launched at $399, matching the original price of the PS4 itself. With the Quest 2 no longer setting the entry for standalones a full $100 below that, Sony's theoretically in a better position to repeat its pricing route with PS VR2 than it was a few months ago–or it would be, if it hadn't also just raised the price of the PS5 outside the US.
Is anyone holding out for sub-$400 PS VR2 now? I can't see a path there. We already know it's putting the hurt on standalone headset makers to hit retail prices of $500 or below. Yes, some of those costs aren't shared by the PS VR2 because the compute power resides in the console, but early impressions suggest Sony isn't really cutting corners with any of the sensors, panels, and other components that have been packed into the headset.
I absolutely believe Sony could sell a few million PS VR2 headsets within a year just based on what it has already revealed of its launch game lineup. That said, the more we learn about this headset, the more I wonder if Sony might be on track to launch at a price that, however fair, could be a touch too high to really entice those beyond existing VR fans.
From the fun world of funding
What's the Google Venture angle on leading the $12 million Series A round in SideQuest, proprietors of the top non-Meta store for Quest content? Maybe Google has come around to feeling confident that most if not all of the leading standalone headset companies will keep building atop Android for quite some time. That'd be a solid reason to support a player that has built its whole gameplan around the sideloading and opportunity for choice baked into the Android ecosystem. Don't miss SideQuest co-founder Shane Harris' comment to UploadVR about the potential for expanding to ByteDance's line of Android-powered headsets from Pico.
News of AmazeVR's $17 million Series B points to its Megan Thee Stallion shows and dealmaking with K-pop companies sustaining investor interest in its particular vision of immersive virtual concerts. I'm interested to see what the startup's next big project will be, because I think there's something to the idea of the group theatrical VR approach it took with the Hottieverse tour that stands out from the rest of the concert crowd.
Some small VR training fundraising news for your attention: Dublin-based VRAI raised €3.4 million in a round led by Northstar Ventures and Houston, Texas' HTX received a first outside investment of $3.2 million from Cypress Growth Capital.
Introducing the Vector Media Club
This week, to devote a moment to something in immersive tech that excites me, let's talk about a book I want to experience together with you!
Quinn Myers, formerly of MEL Magazine, just published a new book diving deep into XR's most infamous cautionary tale: Google Glass. Myers didn't just write a recap of the Glass hype and failure arc we all lived through, but a history that includes the perspectives of designers that shipped Glass and early adopters that wanted to love it. This new Business Insider piece goes into more detail about the book's scope.
Over the next few weeks, I'm going to read Myers' book. It's just titled Google Glass, and you can find it here. I invite you all to read it as well. Toward the end of this month, supporters at the Vector Voyager level will receive a review I'll write of the book as part of what I'm calling the Vector Media Club (maybe I'll come up with a snappier name). At around the same time, though I won't guarantee I'll always do something like this for Media Club topics, I'll speak with Myers about the book and release our conversation as an interview or Q&A for all Virtual Vector supporters, free and paid.
If you have any questions for Myers, feel free to shoot them my way and I'll work the best ones in. This is all pretty new and experimental on top of launching the newsletter you're reading right now, so I'm also open to any feedback you have. Let me know what kinds of media you'd want to explore with the Virtual Vector community and how you'd like to go about doing it.
More stories: