Just pretend it means "make metaverse happen"
Prodding at root causes behind some recent metaverse headlines.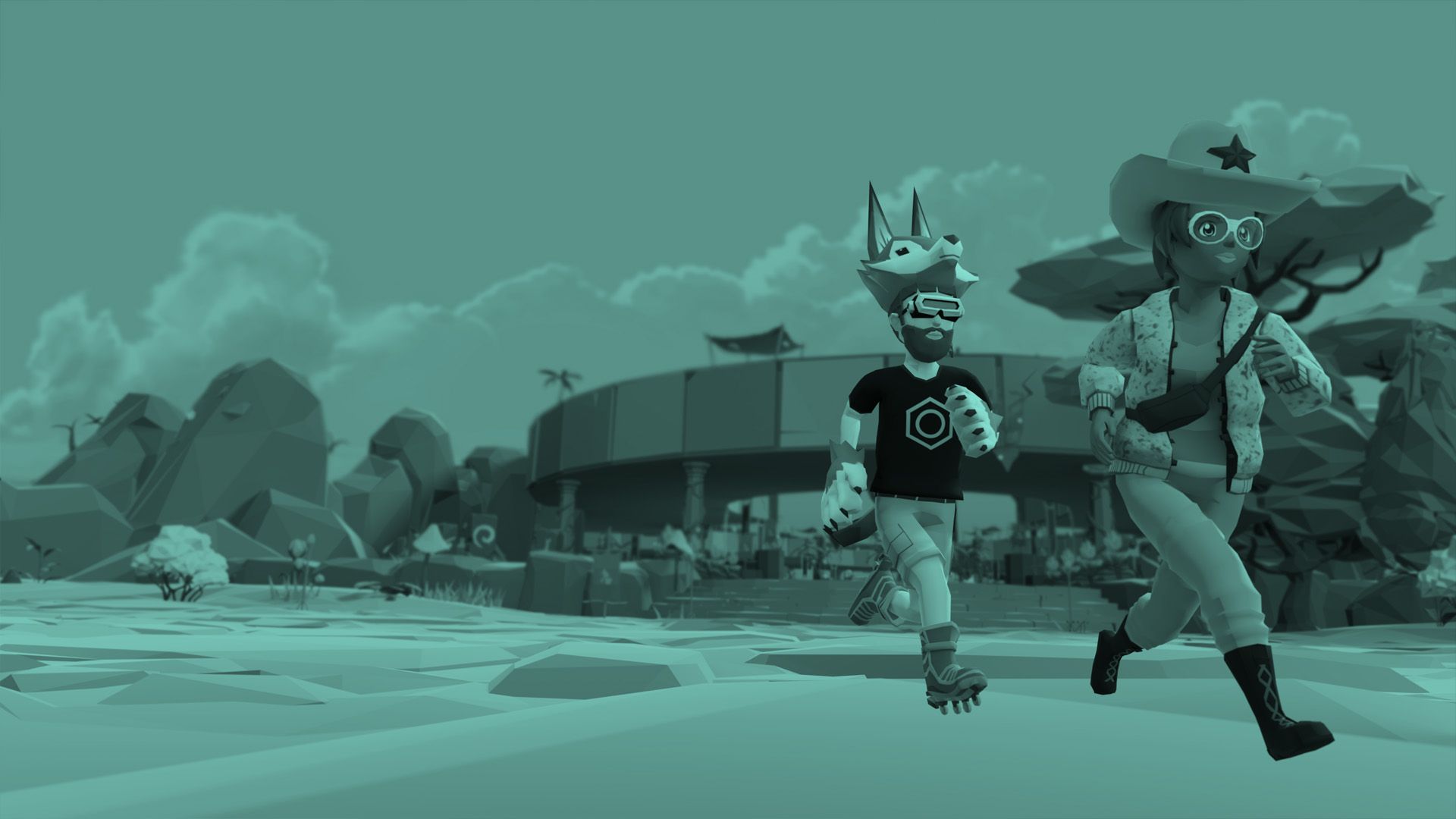 Welcome back to the Virtual Vector newsletter!
A quick note: I'm keeping the special annual discounts for Virtual Vector's launch in place for another week. I'll retire them after October 18, and today's newsletter is the last full free one for a while. Details on complimentary subscriptions and corporate discounts are also at the link below. Thanks to all who've signed up!
Middling metaverse metrics
This newsletter normally won't focus much on platforms like Decentraland, mainly because they're not quite immersive (adding a "yet" seems… optimistic) and aren't that big. However, when an article claims that both Decentraland and competitor The Sandbox can't clear 1,000 daily users–in spite of market caps over $1 billion–it's worth taking a look.
On Friday, Cameron Thompson published some figures on Decentraland and The Sandbox at CoinDesk. Using a service called DappRadar, she found that Decentraland had just 38 "active users" within 24 hours of publication while Sandbox had 522. Those terrible stats quickly made the rounds on social media, but Thompson caveated them right at the top of the piece: DappRadar is only measuring when a user interacts with either platforms' Ethereum-based contracts, not when they log on. I'm solidly in the "show me a crypto project that isn't a grift" camp, but only tallying users that transact on a given day is clearly an undercount.
"By how much" is the next question. Decentraland and The Sandbox quickly fired back with figures they stand by, respectively claiming around 57,000 and 201,000 monthly active users. Those stats aren't too great either. As I mulled them over on Monday night, I pulled up Steam's charts and found that over 20,000 people were actively using VRChat at that moment through Steam alone. Decentraland pulling an average of 8,000 users per day would be respectable in comparison if it wasn't a platform that has received a delirious amount of hype over the past couple years. Neither it or The Sandbox are close to touching Second Life's monthly average, and that platform is the go-to example of the metaverse that wasn't. What gives?
As I see it, the answer is one backed up by those dismal stats from DappRadar: both Decentraland and The Sandbox are built around trade and ownership, and few users are finding reasons to regularly open their wallets. To the extent that the success of anything resembling a metaverse will hinge on entertainment value and wish-fulfillment, platforms like these offer what, exactly–the chance to buy or sell artificially scarce land and branded goods you might only value as speculative investments, and maybe you'll run into voxel Snoop Dogg?
Being early to an idea is not the same as building something that only has limited appeal. These platforms should want to attract users beyond crypto diehards and folks with NFTs to sell, and that means asking deeper questions about why a user would feel like logging on to begin with. Which is a nice segue to...
One must imagine Mark happy
Is Meta's metaverse mission a mess right now? Internally, the needle seems to be leaning toward "yes." Meta went into the weekend before Connect hot off a one-two punch combo from The Verge and Financial Times, both reporting on a memo from VP of metaverse Vishal Shah ordering a "quality lockdown" through the end of 2022 for Horizon Worlds. Meta's own developers are apparently spending a worryingly low amount of time using it. "Why don't we love the product we've built so much that we use it all the time?" Shah asked in the memo.
Next, The New York Times published a bit of Horizon Worlds stunt reporting that rehashed some well-known issues with the platform (like "unpleasant" behavior and a preponderance of kids) while also hitting some positive notes. Turns out that piece ended up being a prelude to the Times' own peek behind Meta's curtains, published Sunday. Amongst various frayed threads, the Times points to friction between John Carmack and Meta leadership over the metaverse strategy and revealed that a group of employees had proposed marketing Quest headsets to Americans receiving student debt relief (you have to guess that idea was passed over in part because Meta had just raised the price of the Quest 2).
The most illustrative–though not surprising–detail to come out of all of this coverage was an acronym laying blame for this shakiness at the feet of Meta's founder. Two employees told the Times that "M.M.H." or "make Mark happy" is the new internal joke attached to "key metaverse projects." Try as Meta did to spin Zuckerberg's "Eye of Sauron" nickname as a positive, it's one thing for workers to feel an intense pressure to deliver when they have the CEO's attention. It's another for them to feel like their projects have more to do with the boss's whims than with the direction that computing as a whole is headed in.
I've given credit to Zuckerberg in the past for having a bigger picture in mind tying together the metaverse, spatial computing, and immersive tech. What he's ultimately driving at, and what a large part of Meta's Reality Labs division has been tasked with trying to create, has little to do with what Horizon Worlds or other metaverse platforms are today. At Connect, we'll see Meta make its best, most polished pitch for a slice of that vision with all the talk of the Quest Pro, mixed reality, and work. We'll probably get a look at some foundational advancements in immersive interfaces and hardware from Michael Abrash, too.
No doubt there are many people inside Meta who are excited to work on these varied projects. Maybe they've come around to Zuckerberg's POV, or maybe they're driven by their own beliefs about the future of this tech and are happy to be pursuing their work with ample funding. The problem is that many people evidently aren't feeling this excitement, and these reports focused on Horizon Worlds add to years of reporting about management styles within Meta geared around either bringing people in line or encouraging them to leave.
With his memo, I think Shah is on to something with the idea that the people creating something immersive and social like Horizon Worlds should love what they're building. Getting there might just require a more open, experimental approach to development that's at odds with the way that Zuckerberg his closest colleagues think about running the company and launching products.
I am curious to see what Meta has in store for Horizon Worlds today at Connect. More than watching for news of new features or improved visuals (and I don't think we'll see much of either coming soon), I'm wondering if Zuckerberg will take the lead on explaining where Horizon Worlds is headed, or if he'll at least be comfortable letting someone else do the talking.
HTC makes small talk
At the moment, it looks like HTC lacks big ideas for how to hype up its next VR headset. Instead, the Vive-owner is revisiting a familiar playbook with a single word in mind: "small."
Via Twitter on Thursday, HTC announced an upcoming VR headset by releasing a vague, tightly cropped image of the device. We have even less to go off of than we did last year when HTC released similar images to drum up interest ahead of debuts for Vive Focus 3 and Flow, two headsets that didn't fit what HTC loyalists were hoping for: an affordable consumer standalone.
HTC dangled another teaser on Monday, tweeting a link to a 2021 Kotaku Australia article by David Smith that called the Focus 3 "an amazing VR headset that [HTC] doesn't want you to buy." HTC dropped "#metaquest" in the tweet.
It seems like HTC is hinting at finally releasing a consumer standalone, but even if this isn't another "Lucy with the football" situation, HTC should be careful. Inviting Quest comparisons would have made sense a year ago, or even a month ago, but whatever HTC is about to announce is coming late to the party after ByteDance's splashy launch. Cheekily encouraging people to "check their return policy" for the Pico 4 is also questionable. After testing consumers' good will last year with its teases (and with the middling Cosmos in still-recent memory), there's already enough riding on the initial reception to HTC's next headset without all this build up.
HTC is still capable of making good hardware; having spent a bit of time using both the Focus 3 and the Flow, I found plenty to admire about both devices. The company has even shown that it can generate excitement around more novel headset concepts in the past, so it strikes me as odd that HTC's first push toward revealing a consumer standalone is leading with the idea that it'll be small. Small is good, but small is essentially table stakes now.
Just reveal the headset and get into real differentiators like features, apps, and price. At least that way, if it isn't actually notably smaller than its competitors, onlookers might find something else about HTC's offering to like.
Let there be Lumen light
Anyone working with Unreal Engine and VR will probably want to watch this nearly hour-long video from Alex Coulombe of Heavenue and AgileLens. Ahead of Unreal Fest next week, Coulombe has been showing off his progress toward getting Lumen (Epic's Unreal 5 dynamic lighting and reflections method) and Nanite rendering (5's mode for using high polycount assets and automatic level of detail) working with VR, which has looked like an uphill battle.
Now, though, many of the "weird little workarounds" needed to get these systems playing nicely with a 3080 and the demands of PC VR are no longer necessary with the newest preview build of the engine, Coulombe says. Come for the shiny surfaces and glowing orbs, stay for the dev insights.
More stories: