Earnings concerns, new haptic gloves, and more Pico VR news
Plus: AR Desert Bus.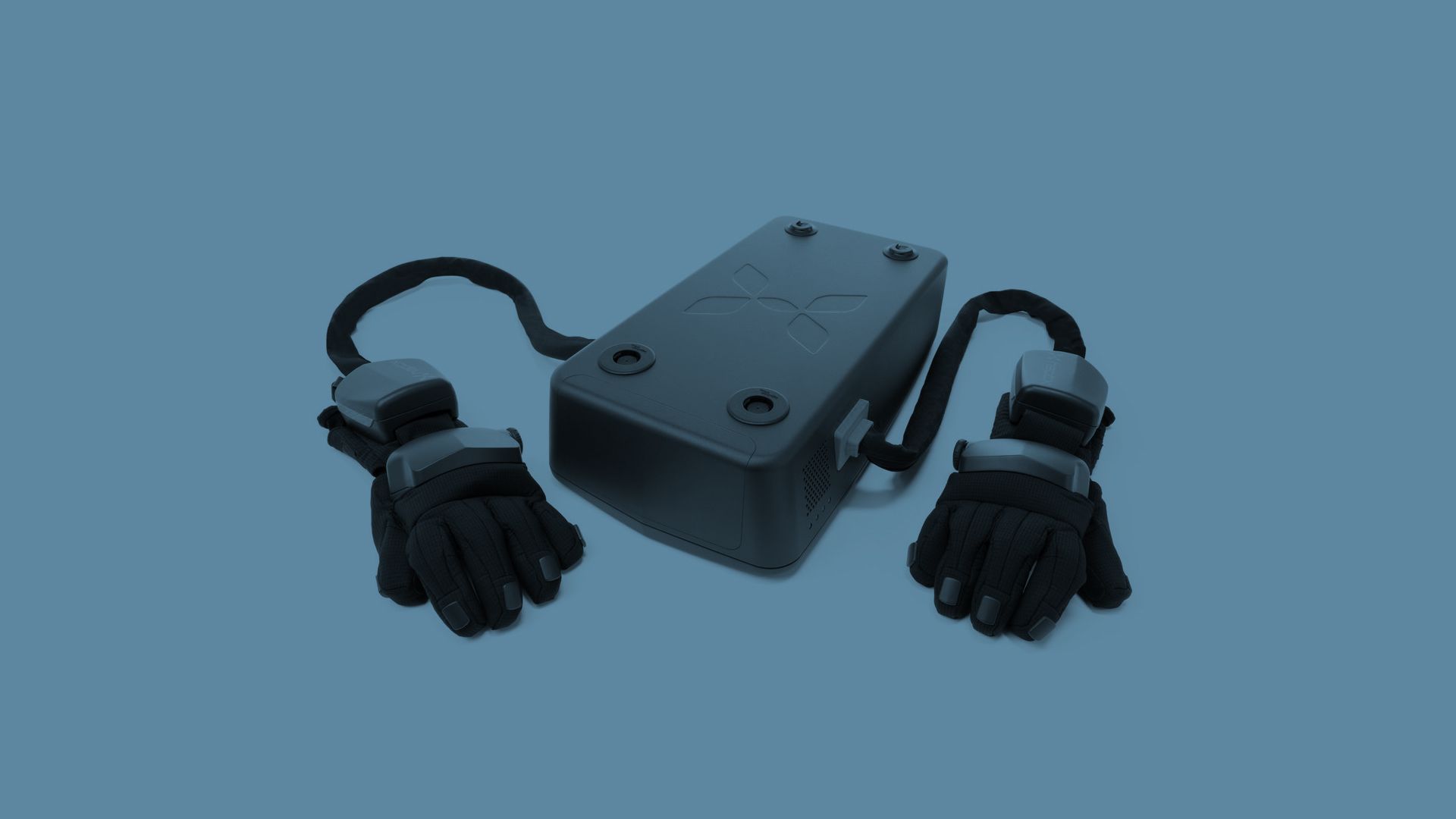 Welcome!
Some programming notes: if you're a free subscriber and last week's newsletter didn't make it to your inbox, you can check out what you missed by clicking this link. You'll always be able to find the newsletter at virtualvector.xyz, but do reach out if you ever run into problems receiving it. I'm also looking into changing the "members only" notice on the site to make it clear that at least one section of every Tuesday newsletter is totally free.
Speaking of free, everyone will get access to a bonus issue in addition to Tuesday's newsletter next week. I'll be speaking with Quinn Myers about his new book on Google Glass soon, and I'll edit down our discussion into a nice no-paywall issue for you all. If there's anything you'd like to ask Quinn about, send your questions my way! Subscribers at the Voyager level will also receive my exclusive review of Quinn's book as part of the Vector Media Club (and I'll announce November's Vector Media Club subject soon too). Alright, now for today's issue!
Market splotch
Snap was first among the larger companies this newsletter follows to report its quarterly results as we creep further into autumn. The company missed on revenue expectations and saw shares fall by over 25%. Turns out that digital advertising might still be in dire straits while companies try to navigate new policies and regulations.
At least with Snap, we already saw abrupt layoffs and CEO Evan Spiegel signaling a slower path for the Spectacles ahead of this earnings check-in. As such, I see no new alarm bells to ring concerning Snap's AR future. Let's see how Lens Fest goes in December?
Meanwhile, Meta is weathering blows before it reports earnings tomorrow. We already know that moves to encourage "self-selection" and outright cuts and layoffs are on the table at Meta, but that hasn't calmed an anticipatory wave of negativity from analysts and commentators. Connect's announcements don't appear to have helped much either.
One missive to Meta rose above the rest on Monday. In an open letter posted to Medium, Altimeter Capital CEO Brad Gerstner called on Mark Zuckerberg to enact a three step plan aimed at doubling Meta's free cash flow to $40 billion per year. Business publications do love to spotlight spicy investor letters, and Gerstner did employ a few attention-grabbing phrases to help get his message heard ("Meta needs to get its mojo back"? Oh behave). Gerstner's proposal for making Meta "fit and focused" entails cutting 20% of employee-related expenses, trimming capital expenses, and–of chief interest to this newsletter–limiting Reality Labs and metaverse investment at $5 billion a year.
Many outlets ran with this letter like it was a Rorschach test, fixating on parts of it based on preconceptions. Halving the annual investment in Reality Labs would not amount to "throw[ing] in the towel" with the metaverse, as Meta could still comfortably outspend many rivals and upstarts across immersive tech at that budget. Other headlines focused on the suggested layoffs–and just as there's reason to think Meta may have overexpanded, I see the worth of prodding at the idea that tech layoffs could soon cross a line from "brutal" to "absurd." I also see little objection to the recommendation that Meta double down on AI, but the idea that that's a more promising or less hype-prone path than metaverse R&D deserves more scrutiny.
Two more things before we pick this up again in a week. First, props to Gerstner for recognizing that these suggestions won't amount to anything if they can't sway Meta's king.
Second, I find myself nodding along with Eric Seufert's argument that beleaguered, ad-reliant tech companies might be leaning on macro headwind talk too much. If Meta or any others switch up that script this week, I'll make note in next Tuesday's XR-focused earnings takeaways.
If the microfluidic gloves fit
HaptX announced its new Gloves G1 product line this morning, a haptic gloves system targeted for enterprise customers. The Redmond, Washington-based startup promises the G1 gloves and accessories will offer significant improvements over earlier HaptX developer kit systems at a massive price cut.
The reveal also sees HaptX taking its first big swing at selling a broad range of customers on haptic gloves in the wake of 2021's metaverse boom. The G1's launch will be a test of whether HaptX has timed and tailored its pitch for touch feedback in the "enterprise metaverse" well.
Let's begin with features before focusing on price. HaptX's major differentiator from other gloves designed around tracking and force feedback haptics is the company's system of small microfluidic actuators embedded in the gloves (you may recall that there's tension between HaptX and Meta over microfluidic tech). The actuators swell up or shrink as air is moved in and out of them, which combined with savvy software control can produce the sense that a person is touching or running their hand across a virtual object. The G1 line carries that system over to gloves that will be offered in four different sizes and which connect to HaptX's new Airpack, a box containing the air compressor and controller needed to drive the actuators. On top of being smaller and lighter than HaptX's previous control unit, the new Airpack can also be operated wirelessly for 3 hours while worn as a backpack.
For pre-order, just one pair of G1 gloves will set customers back $5,495, while a bundle with all four sizes will work out to $4,500 per pair. Adding in the necessary Airpack means signing up for a new HaptX subscription program priced at $495/month, which also includes SDK access plus service and maintenance. A "prosumer" crossover device this ain't, but a company could nab a single set of G1 gloves plus a few years with an Airpack and still save tens of thousands of dollars over the cost of picking up one of HaptX's current DK2 systems. HaptX plans to begin shipping G1 gloves and Airpacks in Q3 2023.
I've not yet tried HaptX's gloves myself, but I trust the accounts from immersive tech experts that paint a picture of impressively convincing haptics. Knocking down the price on that experience will surely attract more buyers–though I do wonder exactly what types of companies are currently most eager to use haptic gloves for more than experimentation (it's worth remembering that HaptX's gloves are also designed for telerobotics use).
In a statement provided to Virtual Vector, HaptX's Chief Revenue Officer Joe Michaels emphasized that the earlier DK2 model found a place with "enterprise, industrial, government, and academic customers around the world" even with its high cost and the "bigger, bulkier features" of the system. "I think they understood and respected the constraints we faced," Michaels wrote.
I also asked Michaels about why HaptX settled on using the "enterprise metaverse" as the catch-all for the various uses the G1 gloves might be suited for. He responded as follows:
We have begun to use the term "enterprise metaverse" only because it is a simple, generic way to describe the immersive computing environments our customers are developing that may require touch. Once a new term is coined that better captures the essence of spatial, immersive computing at the enterprise and industrial level, please let me know and I will gratefully consider switching to it.
If you've followed my work for a while, you likely know I have strong thoughts on how the word "metaverse" is and should be used. I respect the reasoning here: generic terms are useful, and constructing new ones is tricky, but I'll be curious to see if HaptX and other companies working on high-end enterprise hardware will stick with the term if the stories swirling around struggling consumer metaverse platforms continue to pile up.
Of course, HaptX has already been working on this tech for a decade, meaning it has already weathered its fair share of hype cycles and other industry ups and downs–and with last month's injection of $23 million, HaptX certainly isn't grasping for cash right now.